Please visit our sister site KenMarschall.com. Currently, this site's focus is on Ken Marschall's most distinguished legacy––his Titanic paintings. Nowhere else is there a complete collection of this vast body of work spanning over four decades, several never before seen publicly, described in his own words. Licensing of images, purchasing original paintings and commissioning new art are all made easy through this site.
---
As we browse the Web, we occasionally come across sites that we feel offer interesting content and are worthy of mentioning. On this page you will find links to these sites as well as information on how to link to our site.
---
The Titanic Historical Society, Inc., (THS) is the premier information source for all things Titanic and White Star Line related. Formed in 1963, the THS was the first and is the largest global organization dedicated to preserving the history of RMS Titanic, her sister ships and the White Star Line. Their quarterly journal, The Titanic Commutator, is printed in color and always full of fascinating material. Their museum, located in Indian Orchard, Mass., contains a unique collection of personal items donated by survivors and their families, historical documents and memorabilia from Titanic, Olympic and Britannic and other vessels of the Line. Titanic collectibles and mementos may be purchased at the museum or through their online Museum Store.

Don't miss the three-part series of lavishly illustrated articles by Ken Marschall with Titanic outtakes from the Ghosts of the Abyss exploration that didn't make it into the 3-D film's companion books! Published for the first time with the permission of Walden Media, LLC, the issues can be ordered through the THS Website.
Encyclopedia Titanica provides a wealth of information for anyone interested in the Titanic. Within the pages of this site you can find over 2,100 individual passenger and crew biographies, regularly updated passenger and crew listings, exclusive research articles and ongoing discussions about the Titanic.
Marconigraph.com is a site set up by Parks Stephenson primarily as a forum for some of the leading researchers in the field of maritime history to share their work. The site is intended to encourage visitors to steer clear of popular myth and dive deeper into the true history of Titanic, Lusitania, and other historic liners.
If you believe you know of a site that may be of interest to us, please let us know by e-mailing the URL to us at Mail@transatlanticdesigns.com
---
Would

you like to link to

? If so, below you will find a choice of graphics along with instructions on how to link to our site.
On the image you want to download, right-click (PC) or click and hold for a second or two, then move cursor slightly (Mac) for an options window to appear. Select "Save Image As" (PC) or "Download Image to Disk" (Mac). Save the file onto your hard drive.
Copy the HTML code associated with the image you choose and paste it into your HTML document.
You may link to a specific page within by navigating to the page with your browser, copying the URL from the Netsite or Address box, and pasting over http://transatlanticdesigns.com (leaving the quotation marks) in the HTML code given below.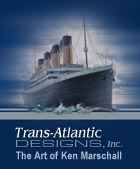 <a href="http://www.transatlanticdesigns.com"><img src="link2tadesigns.jpg"></a>

<a href="http://www.transatlanticdesigns.com"><img src="link2tadesigns_but.gif"></a>

<a href="http://www.transatlanticdesigns.com"><img src="link2tadesigns_ban.gif"></a>

About Us | About the Artist | Contact Us
Art Prints | Posters | Publications | Other Products | Coming Soon | Order Form | Links
General Policies | Legal | Privacy Policy