• Please take time to read our GENERAL POLICIES.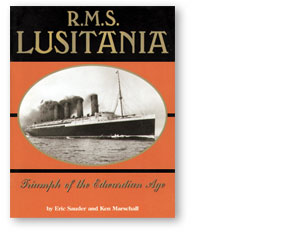 LUSITANIA
Photo Book
Entitled Lusitania: Triumph of the Edwardian Age
by Eric Sauder and Ken Marschall
Tour the historic liner with this treasure trove of never-before-published photos and fascinating narrative details. Ten survivors of her tragic sinking were consulted to make this book the best of its genre. A MUST for any maritime enthusiast's library!
8 1/2 x 11" (21.6 x 27.9 cm)
Soft cover, 50 pages.
Item #LB1 $17.95
To learn more about this photo book and view a larger image, click here or on the book.

Entitled Ken Marschall's Art of Titanic
by Rick Archbold
Lavishly illustrated with three decades of Marschall's haunting Titanic artwork. Contains chapter on his life and other work, including matte painting for motion pictures. Introduction by Writer/Director James Cameron. This book is no longer in print. Take advantage of this opportunity to own one of the last available copies and have your copy signed by the artist!
Approx. 12 x 11 1/4" (30.5 x 28.6 cm)
Hard cover with dust jacket, 160 pages.
Limited quantity.
Item# TB1 $50
To learn more about this book and view a larger image, click here or on the book.
This book can also be purchased as a signed and numbered set that includes the exclusive limited edition print Passage to Eternity.
About Us | About the Artist | Contact Us
Art Prints | Posters | Publications | Other Products | Coming Soon | Order Form | Links
General Policies | Legal | Privacy Policy