• Before placing your order, please take time to read our General Policies and our Privacy Policy.
Payment must be made in U.S. funds by check (subject to 10 day hold) or money order. Do not send cash through the mails. Visa and MasterCard accepted.
California residents, please add 9.25% sales tax.
Please add Shipping & Handling, calculated on the Sub Total amount. Refer to the S&H chart below.
Prints and posters will be sent in heavy stock tubes.
Please allow 2-4 weeks for delivery.
For an additional charge, most items can be delivered in the U.S. and Canada via 2nd-day Air Express, where available. NOTE: All expedited orders and associated charges MUST be confirmed before ordering by e-mailing: CustomerService@transatlanticdesigns.com.
To place an order, please download, print and fill out our PDF Order Form. You can also print this page. After filling out the order form, please mail it to:

*If you do not already have it, you can easily download the free Adobe Acrobat Reader HERE.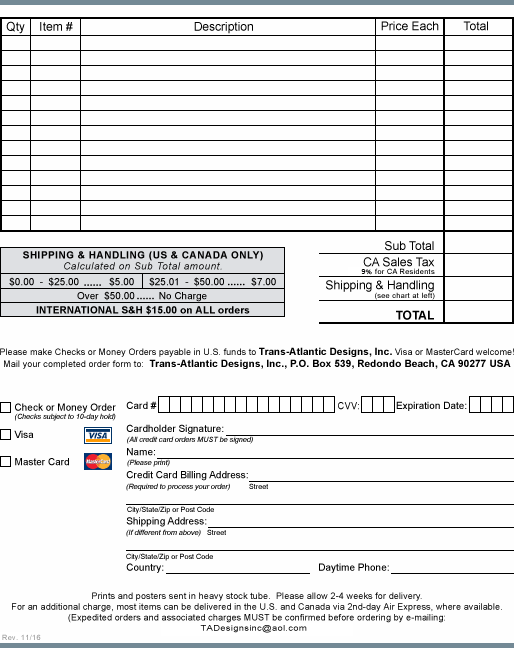 About Us | About the Artist | Contact Us
Art Prints | Posters | Publications | Other Products | Coming Soon | Order Form | Links
General Policies | Legal | Privacy Policy